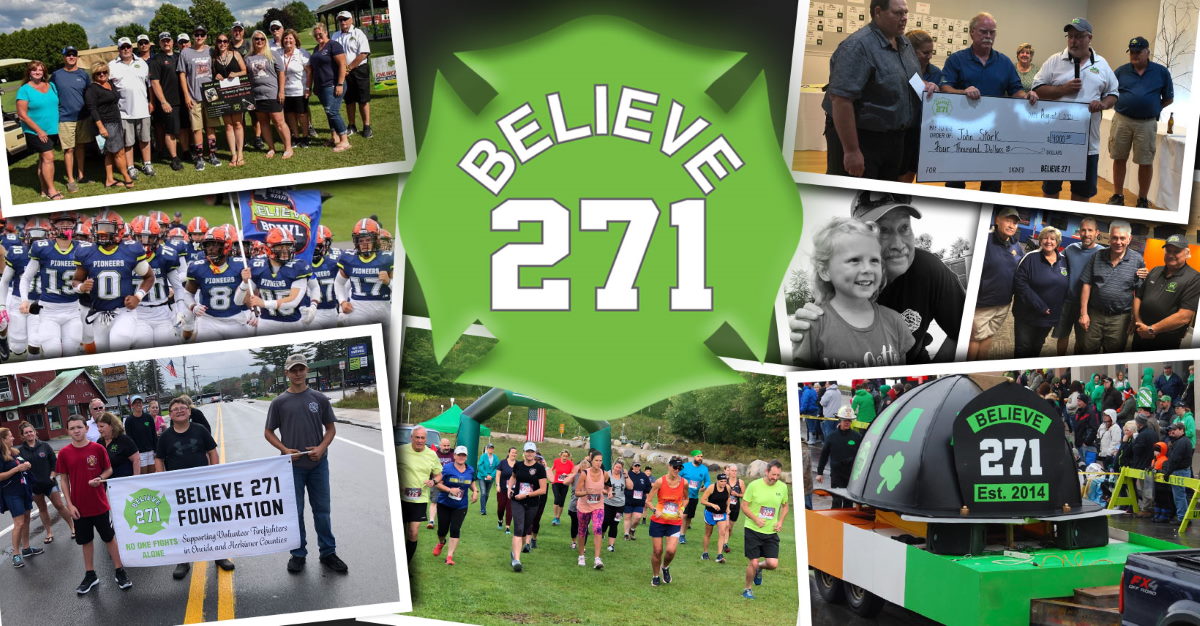 Our story begins with a brother firefighter's, Brian McQueen, diagnosis with occupational cancer. His treatments for this type of cancer needed to be done in New York City at the Memorial Sloan Kettering Cancer Center where he had to live for six weeks. It was an idea of two brother firefighters, Brian Palmer and Brian Healey, to raise funds to assist in his treatments. Knowing the increase in cancer in firefighters across the nation, McQueen declined the funding, but rather asked his friends to take this great idea and make it grow so that others affected by occupational cancer or life-threatening illness could be helped.
McQueen believed that cancer could be beat and it was with that thought the Believe 271 Foundation, Inc. was formed in March of 2014 benefitting volunteer firefighters in Oneida and Herkimer counties. At that time, McQueen, was Deputy Coordinator Car 271 and his badge number became the icon of the foundation.
Realizing through research that occupational cancer would affect 62% of firefighters, the Believe 271 Foundation, Inc. created an educational program to take across the state to educate volunteer firefighters to the dangers we face with occupational cancer. This program has reached over 6,000 volunteer firefighters and their families. From these educational seminars, and the outpouring of support for the Foundation, texts, phone calls, emails and personal visits from volunteer firefighters interested in  sharing the news of their fight with cancer.  Our 100% volunteer board then extended the Foundation's efforts to include our ladies auxiliaries who stand with us at every major incident.
The mission of the Believe 271 Foundation, Inc., is to provide financial assistance to those volunteer firefighters and ladies auxiliaries stricken with cancer and life-threatening illness. Through in-kind donations from numerous donators from businesses, fire departments or individuals, we've been able to grow our Foundation so that no one will ever fight alone again.
Cancer in the Fire Service
Firefighter cancer is a looming personal catastrophe for each and every firefighter. Multiple studies have supported the higher risk of multiple types of cancer in firefighters compared to the general American population.
Firefighters have a greater risk of developing:
Testicular Cancer (2.02 times)
Multiple Myeloma (1.53 times)
Non-Hodgkin's Lymphoma (1.51 times)
Skin Cancer (1.39 times)
Prostrate Cancer (1.28 times)
Malignant Melanoma (1.31 times)
Brain Cancer (1.31 times)
Colon Cancer (1.21 times)
Leukemia (1.14 times)