Believe 271 2020 St. Patrick's Day Parade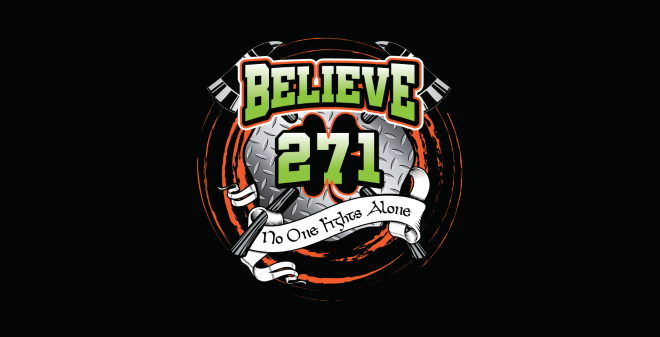 The Believe 271 Foundation Officers and Board of Directors continue to share its message that "No One Fights Alone" at this year's St. Patrick's Day Parade in Utica on Saturday, March 14th at 10:00 a.m. Line-up at 9:00 a.m.
In our 6th year of participation and we want to make it the best yet. We plan to have a Believe 271 themed float for the parade and are hoping to fill Genesee Street with more than 300+ "Believers" walking behind the float. "Believers" are further defined as firefighters, ladies auxiliary, family members and friends of the fire service. We are asking all participants to wear one of our NEW 2020 specially designed St. Patrick's Day shirts. These black (tee shirt, long sleeved tee, crew sweatshirt and hoodie) are available in both youth and adult sizes. You will note that the adult items (except the tee shirts) will have a full right sleeve design in addition. We have a new vendor this year, please note when placing your orders.
Orders must be submitted by February 17th to:
Jay Vennaro at Boulevard Graphics (behind Boulevard Diner)
22 Roosevelt Drive, Whitesboro, New York 13492
or emailed to: jay@blvdgraphics.com
Phone: 315-768-9628 or Fax: 315-796-2919
Shirts can be picked up at (please indicate on the bottom of the order form):
Barneveld, Bridgewater, Mohawk or Willowvale Fire Departments:
Tuesday, March 10th from 5:00 pm – 7:00 pm
Boulevard Graphics: located behind Boulevard Diner in Whitesboro
Monday, March 9th through Friday, March 13th 8:00 am – 4:30 pm
Parade:
Details about the parade and where to meet us to walk in the parade will be shared via Facebook or our webpage.
If you have a large group and know you will be participating in the parade, please call or email Brian Palmer: 315-790-8038 or brianp725@gmail.com.
The St. Patrick's Day shirt order form and a signup sheet are available below. PLEASE POST AT YOUR STATION or copy and share with your members. As always 100% of the proceeds from shirt sales go to the Believe 271 Foundation, Inc., a not for profit 501(c)3 organization.
If you have any questions, please contact Brian (315-552-8245) or Sarah McQueen (315-723-2343).