2019 CNY Memorial Stair Climb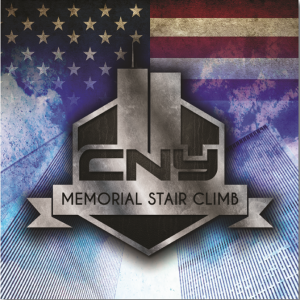 First and foremost, this event is focused on remembering those emergency responders who made the ultimate sacrifice on 9/11/01 during the terrorist attacks of the World Trade Center Twin Towers. While the situation was one no responder is ever prepared for, those first and subsequent responders faithfully performed their duties sacrificing their own lives which ultimately saved thousands of civilians prior to the collapse.
Are you ready for 2019???
As a previous years climber, you are being invited to register before the climb officially opens for new climbers and ALL Volunteers on April 1st (and its expected to sell out in minutes).  Registration will open for you on March 30th at 9 am but you will need a code.  When you click on the link, you will NOT see the tickets until:
1)  March 30, 2019 at 9 am AND
2)  You enter your unique access code!
You will have to click on the button that says discount or access code.  Your access code is your ticket number from last year.  We will send another email from eventbrite that will have the option to download your ticket from last year so you do not have to search for it.  This access code is only usable once and should only be used by you (do not give it to someone else because we will be checking names).  Also, you will get first dibs on the 2019 SWAG!!!!  When you register, you will see additional items at the bottom that will be available for purchase.  These items, if purchased, will automatically be in your bag at registration pick up and is the only way to guarantee you will get these items (we only get a limited number of items to sell on climb day).  This process is open to all climbers from the 2018 year so alternates will also get first dibs on a climber spot.  Last year, 470 people registered for 423 spots...... we will let you do the common core math!.
As you navigate through and complete the registration, you will be forwarded to a fundraising page.  We highly encourage everyone to join our efforts in making this the best year yet.  Please do not be surprised when you see this page, it means you were successful in registering.
WE are excited  to reach our first milestone, 5 years strong, but more importantly we are looking forward to sharing the day with you remembering the heros of 9/11/01.
Please don't forget, a HUGE reason we are able to make this event so successful is by people helping us to get sponsors.  Use the button below to goto our site and get a copy to send to your agencies or local businesses.  Thank you!!